Iconics Suite - Default Group as universal Read Only User [Iconics Security]

This article show how to configure Default Group to act as default Read Only User for every not logged user
- open Workbench
- go Security
- create new group in security Groups

- set newly created group as "This is the default group"

- set Read Only privileges (shortcut on the bottom of group page)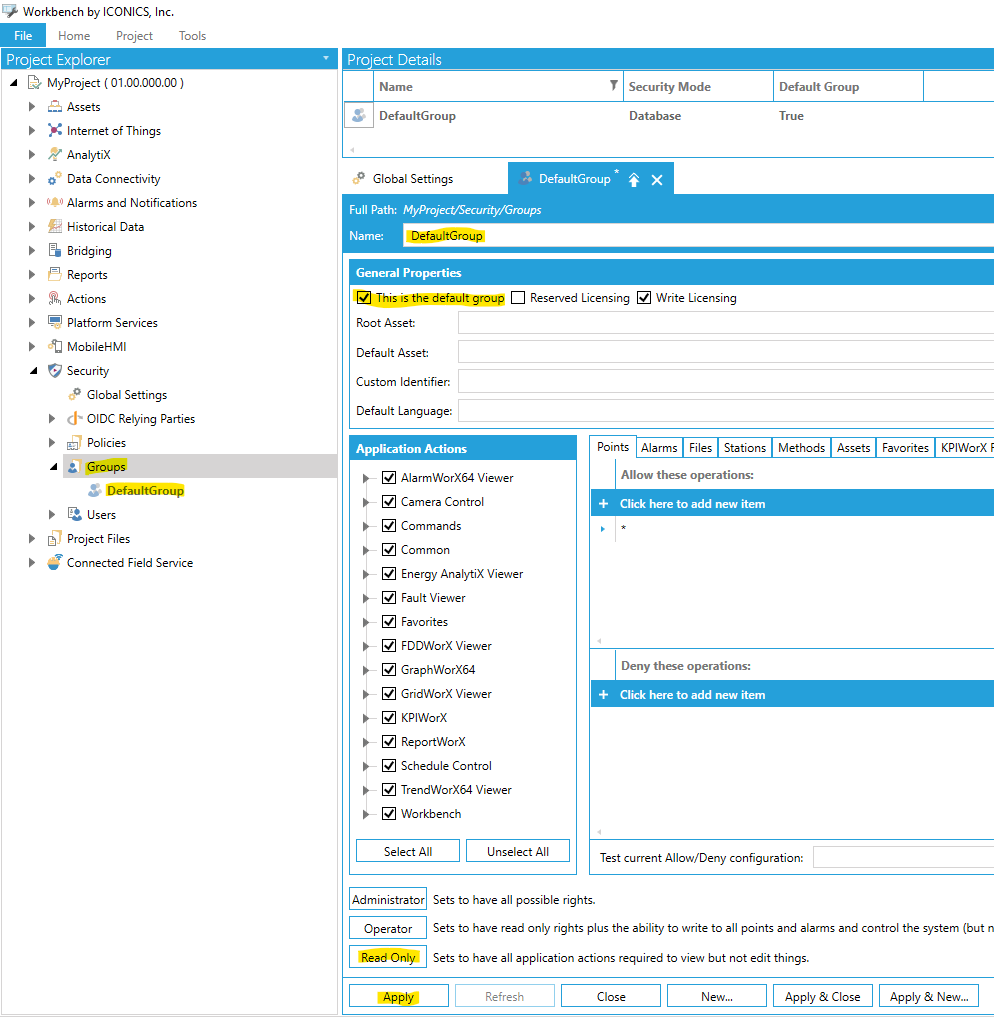 Related Articles

Iconics Suite - Start different display depending on user group [Iconics Security]

This article show how to setup first display for checking Security Group to which user belongs to and according to this redirect to certain display Sample is in the attached files StartDisplay.gdfx is the display that contains button with initial ...

Iconics Suite - Question mark tags (Current etc.)

This article show the list and usage of ?Current tags and rest of special syntax tags with question mark on beginning of the tag ?Current tags The Security Server exposes several points that expose information about the user, who is currently logged ...

Iconics Suite - Installation guide

This article will guide you how to prepare your operating system and database to install Iconics Suite. Please note that you will have to have Windows full admin user account to install Iconics properly! To complete Iconics Suite installation without ...

Iconics Suite - Melsoft connection with FX5 [Iconics Suite connection]

Detailed description how to configure connection between Iconics Suite SCADA and iQ-R PLC controller using Melsoft Connection Remember that your PC has to have the static IP address in the same subnet as PLC. FX5 PLC default address is 192.168.3.250 ...

Iconics Suite - Hiding elements by using secured layers

This article explains how to show/hide elements on the screen assigned to exact layer which is managed by security GraphWorX64 - Create Layers To hide some objects, you have to use the 'Security Layers'. This is basically standard GraphWorX layers ...